Download Five Nights at Freddy's 3 v2.0.1 MOD APK for android (Full Game)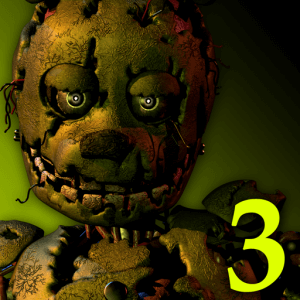 Five Nights at Freddy's 3 MOD APK (Full Game) - The third part of a great and very scary horror game. In the last two versions of Fnaf we played as the guard of a pizzeria, in which strange things happened at night. Toys would come to life and want to tear the character apart, in such horror we had to make it through the whole five nights. Here we will play as the same "securiti", but only in a brand new amusement park. Here we will meet a new creepy character named animatronic, he will bring us the horror of the same five nights.

Now, when night comes and the park is empty, this monster goes hunting and looking for his only victim. Gameplay is essentially unchanged, we sit in a small room and look at the monitor, which displays video from cameras. There is also access to the ventilation system in which our monster can climb. There is one protection against this monster: an audio recording playing a child's laughter, which is the weapon that can scare away the enemy.
Latest version:

2.0.1

Android:

5.0 and up

Size:

59 MB

Google Play: Open

Download Five Nights at Freddy's 3 for free