Download Five Nights at Freddy's 4 v2.0.1 MOD APK for android (Full Game)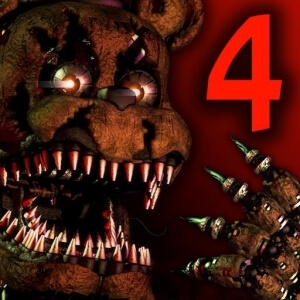 Five Nights at Freddy's 4 (Full Game) - The fourth version of a very high-quality horror game. In the first three parts of this terrifying game we played as a frail security guard who was scared to death by the toys that came to life at night. Here the player will have to play the role of a young child, who by coincidence is alone at home. The gameplay has changed quite a bit, now the player will have no cameras, no broken tools or even batteries, only a flashlight and a teddy bear protector. We are in a dark room with two doors leading into corridors, one locker and a crib, on which our protector is placed.

For five nights we have to fight off all sorts of monsters that roam the dark corridors of the apartment. To cope with monsters and live until the next morning need to download Five Nights at Freddy's 4 for free on Android, and be very careful, it should be good to listen to every rustle and sound, not to miss the room monsters. If you hear eerie laughter should immediately check the door, if you hear that someone rustles things, close the door immediately, if you notice any movement, turn on the flashlight and chase away the enemy. After a successful night will have to pass another mini-game, each time they will be different and sometimes also very scary.
Latest version:

2.0.1

Android:

5.0 and up

Size:

51 MB

Google Play: Open

Download Five Nights at Freddy's 4 for free